Ich melde mich mit einen neuem Winter Outfit von ein paar freien Tagen zurück. Auch wenn wir Weihnachten nicht wirklich feiern oder an die große Glocke hängen, ist diese ruhige Zeit doch ganz entspannend. Nach 2-3 Tagen nichts tun werde ich allerdings schon wieder nervös und darum gibt es ab heute wieder wie gewohnt täglich frischen Content für euch. Kommendes Wochenende kommt noch ein persönlicher Jahresrückblick online und dann starten wir auch schon wieder gemeinsam in ein tolles Jahr 2018.
Bevor wir 2017 allerdings hinter uns lassen, habe ich noch Outfit-, Interior und Beauty-Beiträge für euch, die in den kommenden Tagen online gehen werden. Heute zeige ich euch einen kontrastreichen Look mit Midikleid, schwarzer Fake Shearling Bikerjacke und einem knallroten Schal, ohne den der Look viel zu trist ausgefallen wäre.
Fotocredit: Christian, Männerblog Beats and Dogs
So style ich mein Midikleid im Winter!
Neben winterlichen Kombinationen mit schwarzen Lederhosen und Samt-Mänteln, dürfen auch Midikleider an kalten Tagen nicht zu kurz kommen. Mein Midikleid ist ein Wrap Dress mit Print von & other stories und ist gleichermaßen perfekt für lässige Alltags-Outfits oder elegantere Office-Looks. Ich trage es mit einer dicken, kuscheligen Pilotenjacke und einem farblich passenden Schal, welcher den Ausschnitt des Kleides verdeckt und mich nicht frieren lässt.
Da ich nicht  komplett in Schwarz-Rot erscheinen wollte, entschied ich mich bei den Schuhen für einen leichten Kontrast und greife damit zugleich auch die hellen Details der Tasche wieder auf. Ich habe einen leichten Schuh-Taschen-Tick und achte oft schon unbewusst darauf, dass diese farblich harmonieren. Hochwertige Schuhe und Taschen runden jeden Look sofort ab und verleihen ihm Stil. Darum setze ich hier sehr gerne auf Qualität, denn billige Materialien oder eine schlechte Verarbeitung können einen lässigen Look schnell zum kippen bringen.
Wie gefällt euch mein Winter Outfit mit Kleid?

Midikleid: & other stories // gleiches Wrap Dress, kurze Variante
Jacke: The Cords // ähnliche Pilotenjacke
Stiefeletten: Chloé // gleiches Susanna Modell, Low Budget Boots
Schal: Bershka // ähnlicher roter Schal
Brille: Gucci // gleiche Sonnenbrille
Tasche: Topshop // gleiche Tasche, andere Farbe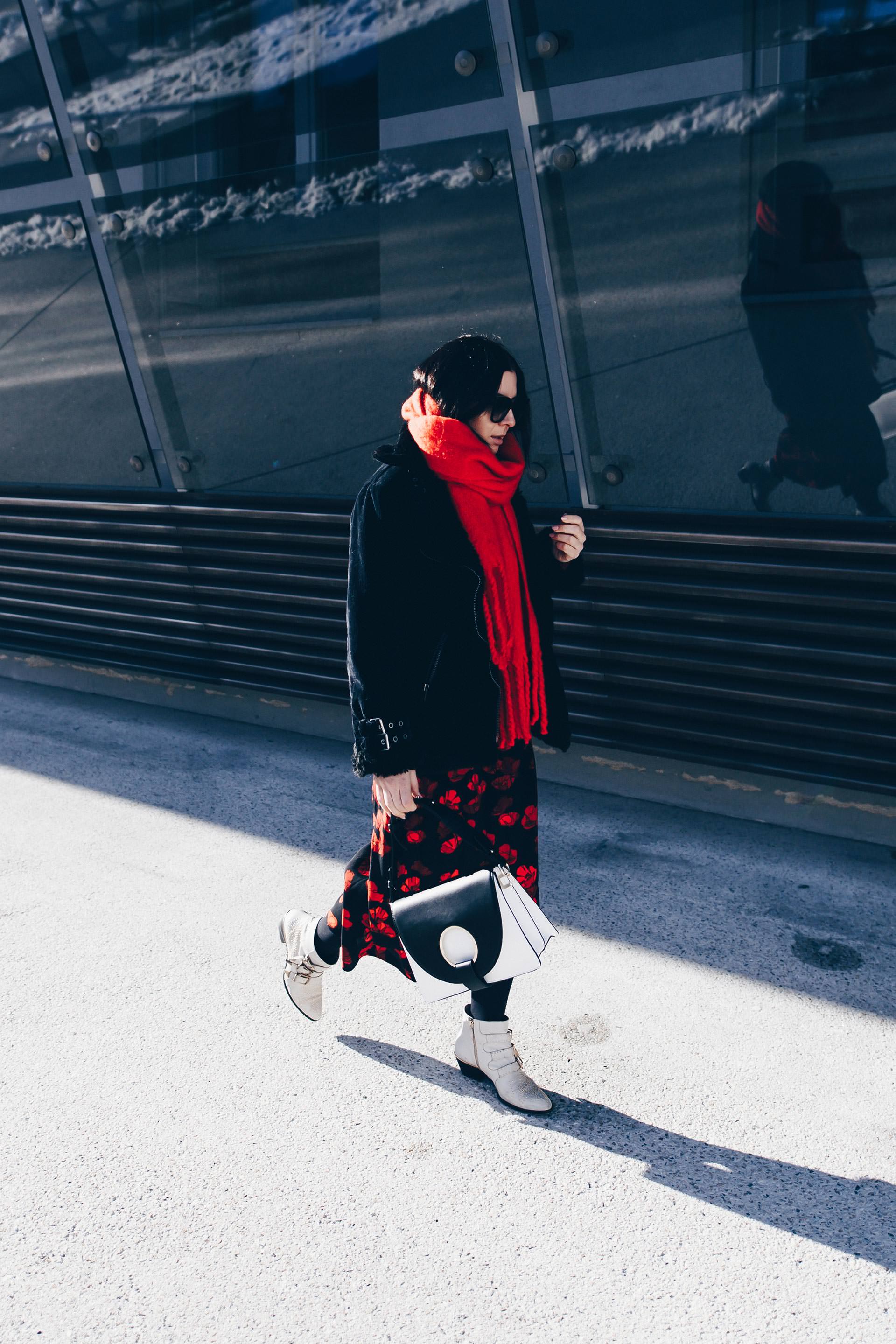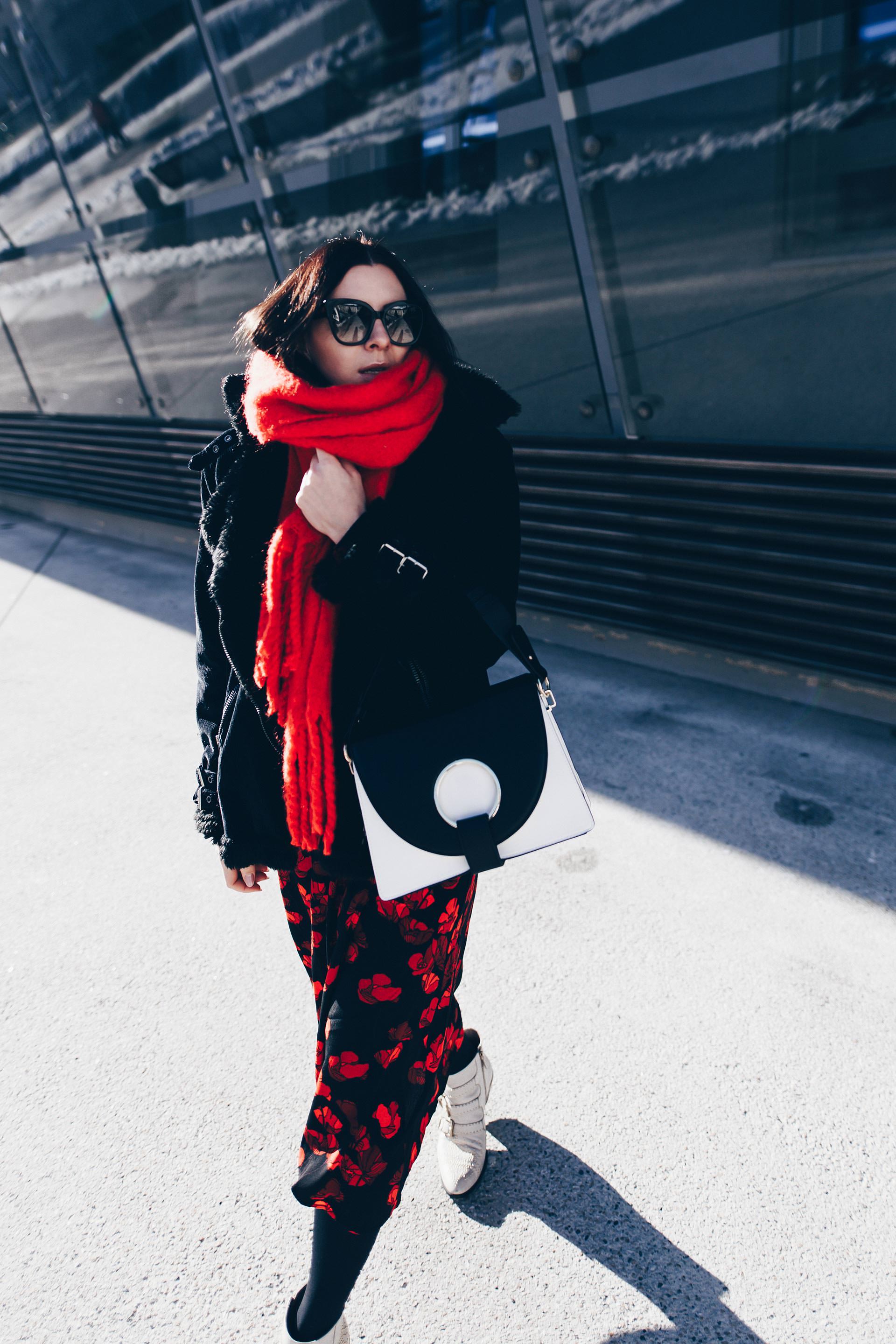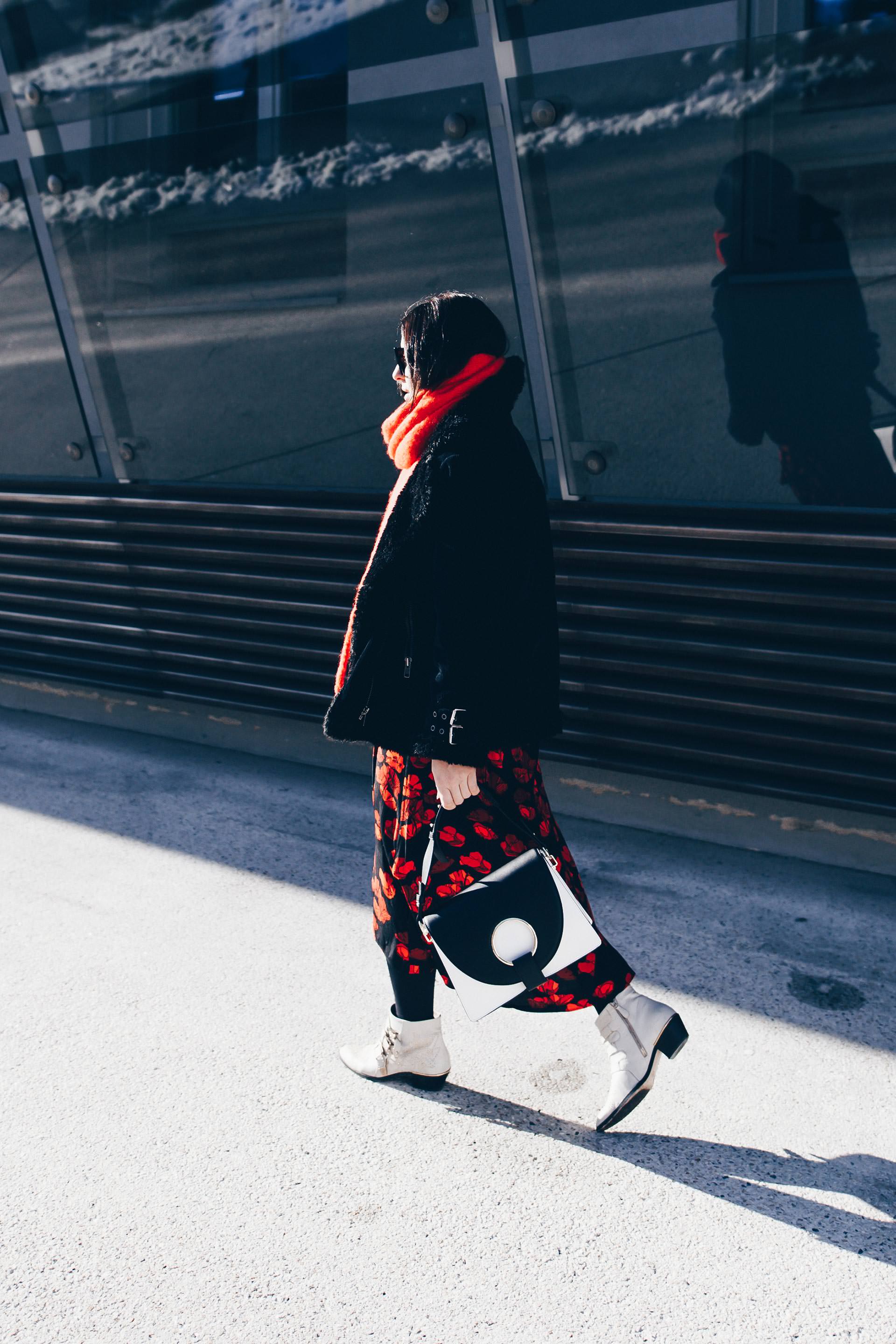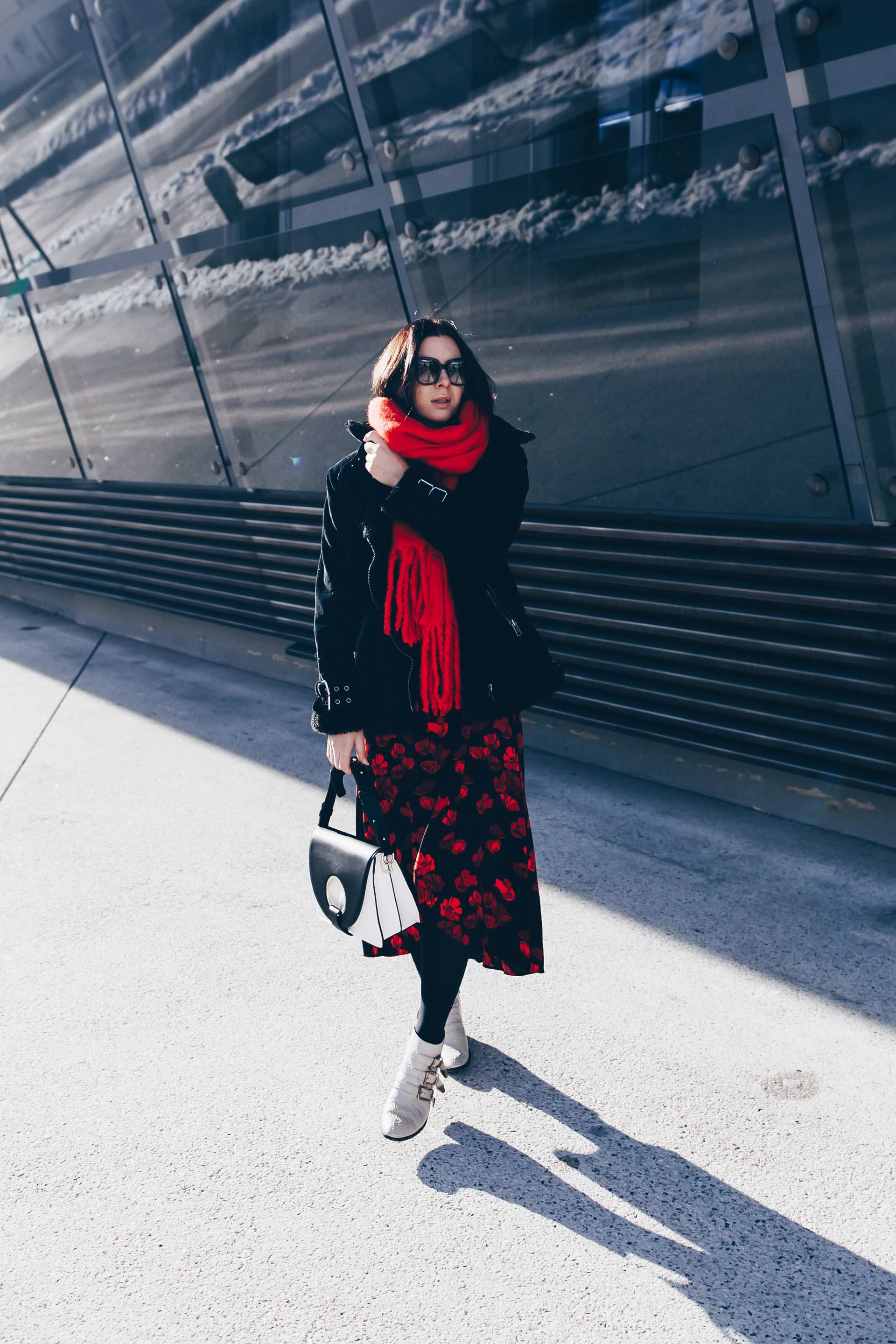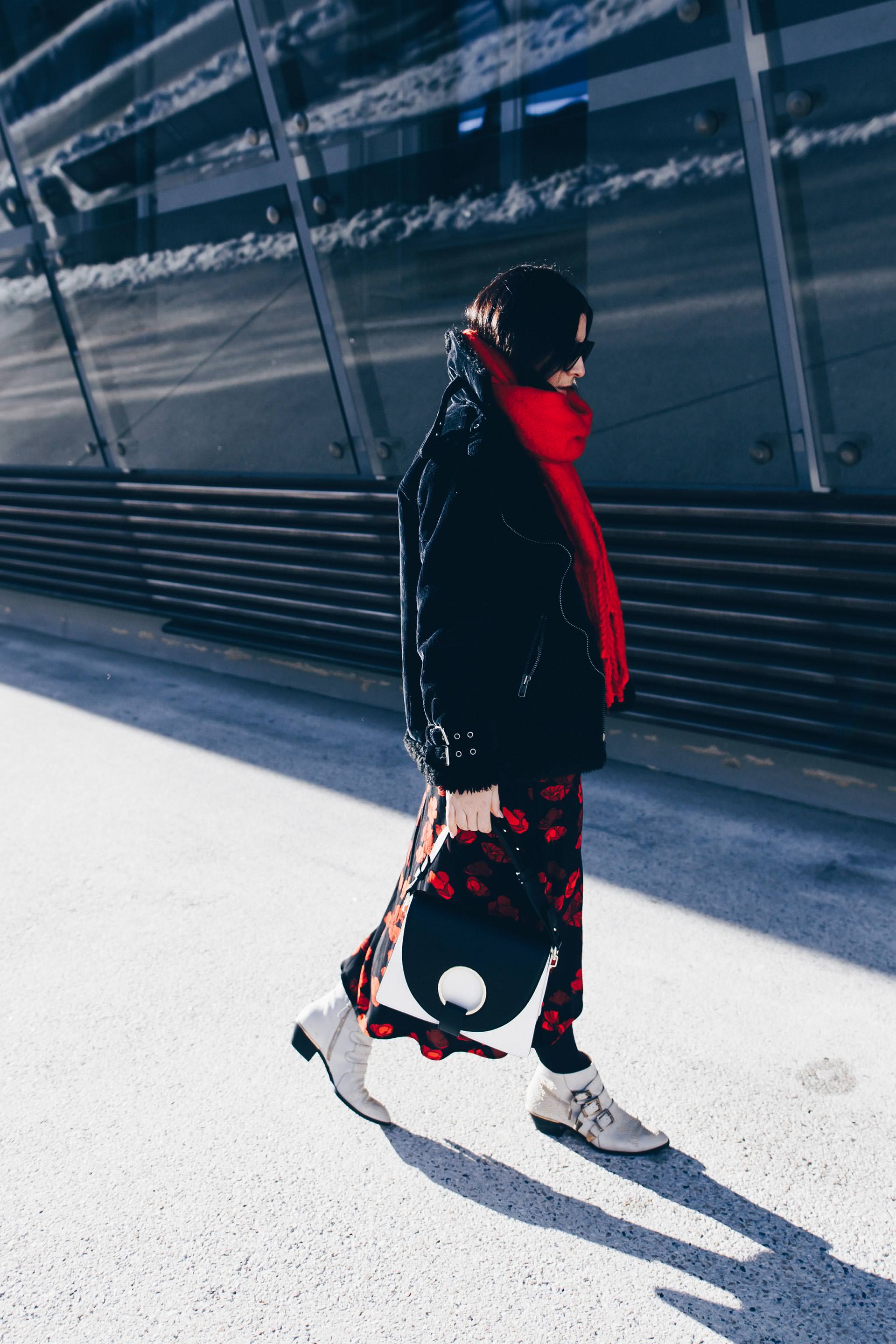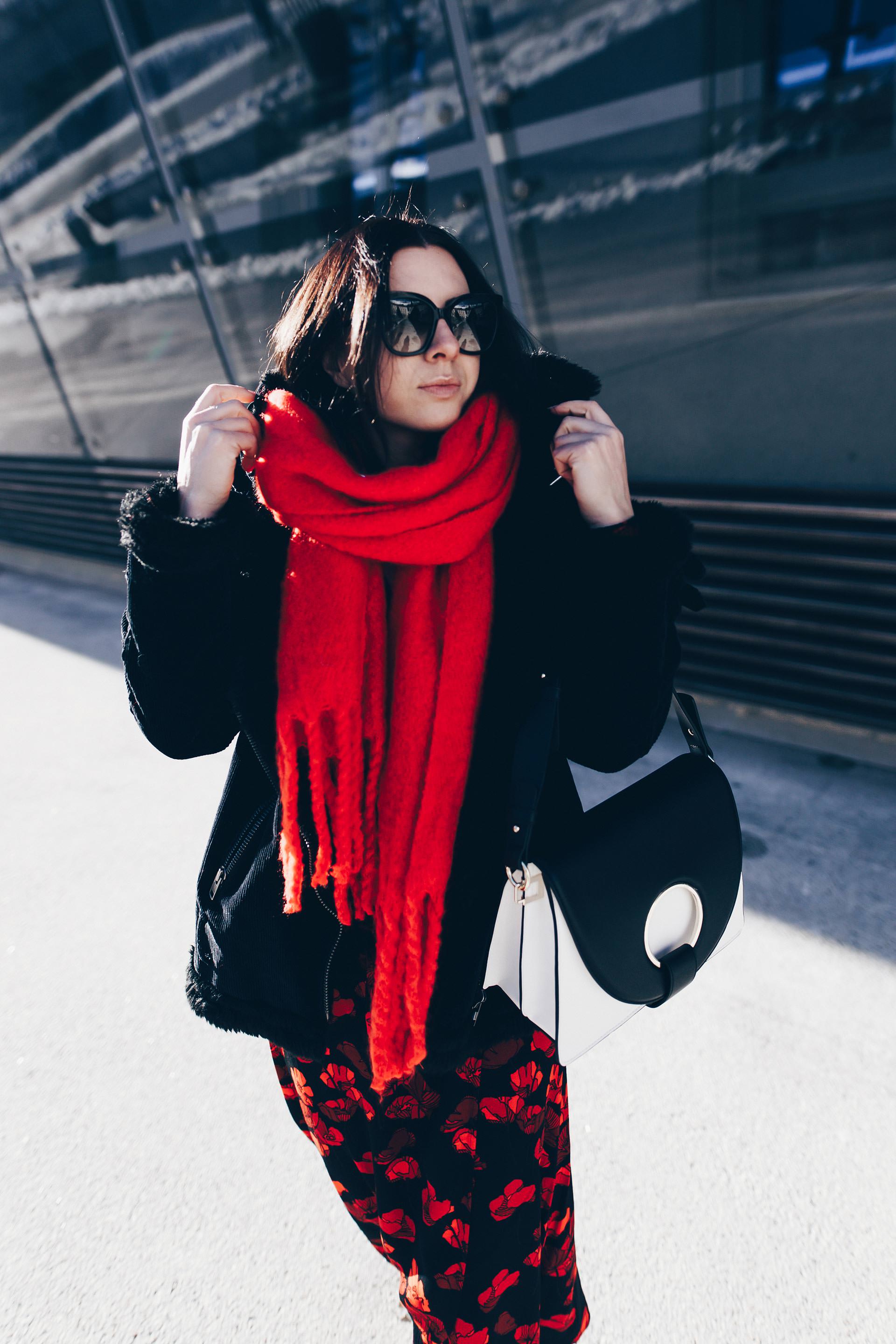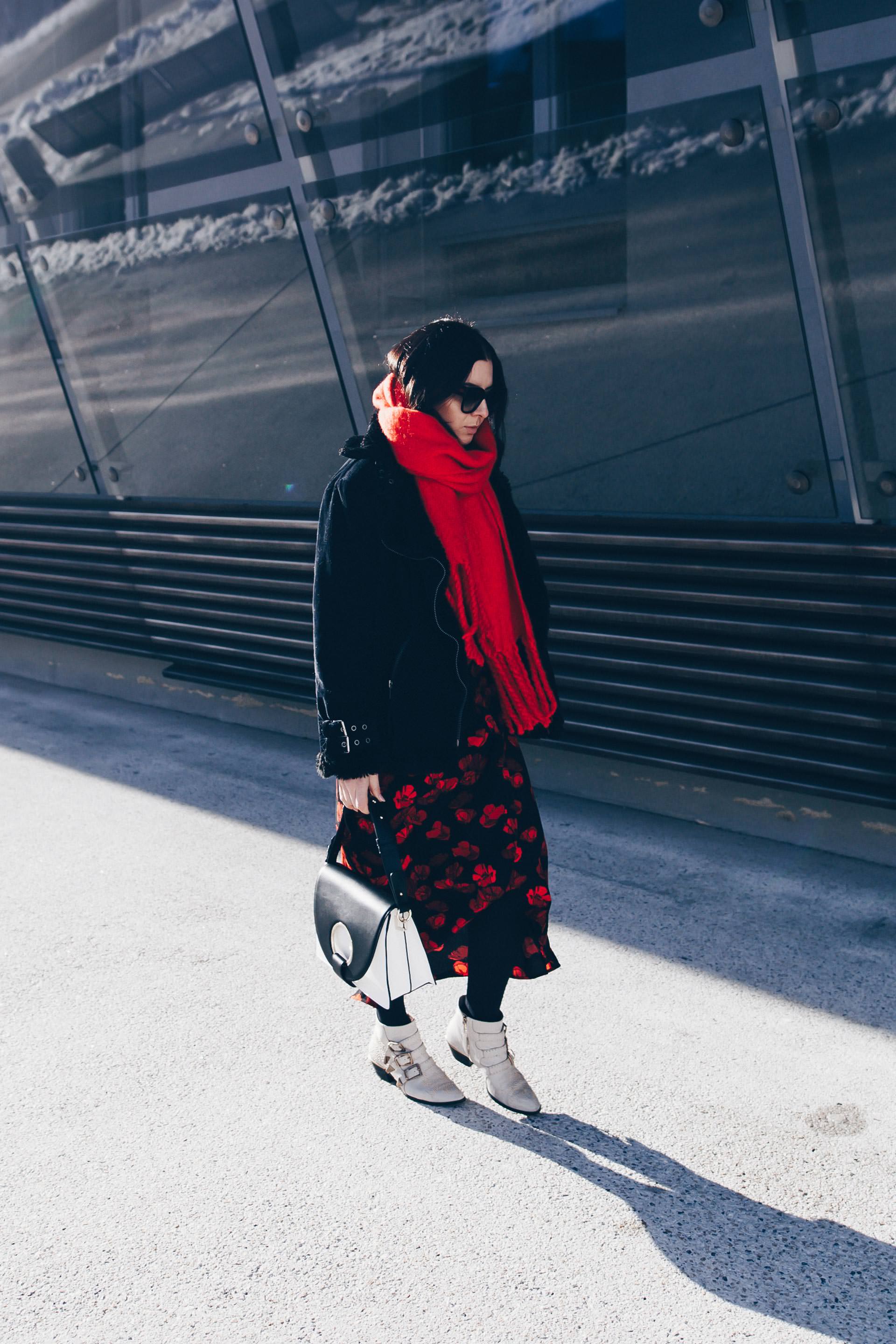 Der Beitrag enthält Affiliate Links. Bei einem Kauf über einen Affiliate Link, erhalte ich eine Provision. Der Kaufpreis selbst verändert sich für euch dadurch nicht.

Danke: whoismocca