Category Archives:
Winter Streetstyle
Nach meinem Skihaserl Outfit vom Wochenende, folgt heute wieder ein warmer Business-Look in winterlichen Farben. Entschieden habe ich mich für einen Mix aus Grau, Schwarz, Grün und Rosa. Lederhose, Rollkragen-Pullover und Coatigan – 3 Key-Pieces die im Nu einen stimmigen Look ergeben. Mehr dazu verrate ich euch jetzt.
Style-Check: Ein Outfit mit Coatigan
Aufgrund der winterlichen Verhältnisse durfte natürlich auch ein Wollblazer über dem Coatigan nicht fehlen. Den dicken Cardigan habe ich übrigens auch noch in einer weiteren Farbe-Variante, wie ich euch hier bei meinem Office-Chic Fashion Diary schon einmal gezeigt habe. Der Coatigan passt aber nicht nur im Office, sondern ist auch ein feiner Begleiter im Alltag oder auch kuschelig warm für Zuhause.
Das Besondere an einem Coatigan
Wie der Name schon vermuten lässt, ist ein Coatigan ein gelungener Mix aus Mantel und Cardigan. Das gute Stück ist ideal für die Übergangszeit und lässt sich besonders vielseitig kombinieren. Besonders Farben wie Grau oder Beige sind hier gerne gesehen, da diese einfach überall dazu passen. Ein Coatigan ist ein zeitloses und hochwertiges Stück, in das man auf jeden Fall investieren kann.
Mein Coatigan ist übrigens ein Teil, welches man auch wenden kann. Das heißt ich kann ihn in Dunkelgrau oder mit Fischgrät-Muster tragen. Dadurch lässt er sich sowohl elegant also auch lässig kombinieren. Aufgrund von Kaschmir, Wolle und Viskose ist der Mantel ein idealer, wärmender Begleiter – nicht nur in der Übergangszeit. Im Winter kombiniere ich zusätzlich eine weitere, dicke Jacke oder einen Wollblazer darüber.
Wie gefällt euch der Look und der Wende-Coatigan?
Coatigan: louloublanche // ähnlicher dicker Cardigan
Rollkragen-Pullover: United Colors of Benetton // ähnlicher rosa Pullover
Blazer: H&M // ähnlicher schwarzer Blazer
Tasche: Chanel // ähnliche grüne Tasche
Lederhose: Y.A.S. // ähnliche schwarze Lederhose
Boots: Zara // sehr ähnliche Stiefeletten mit Schnallen, weitere Boots
Gürtel: Asos // ähnlicher Taillengürtel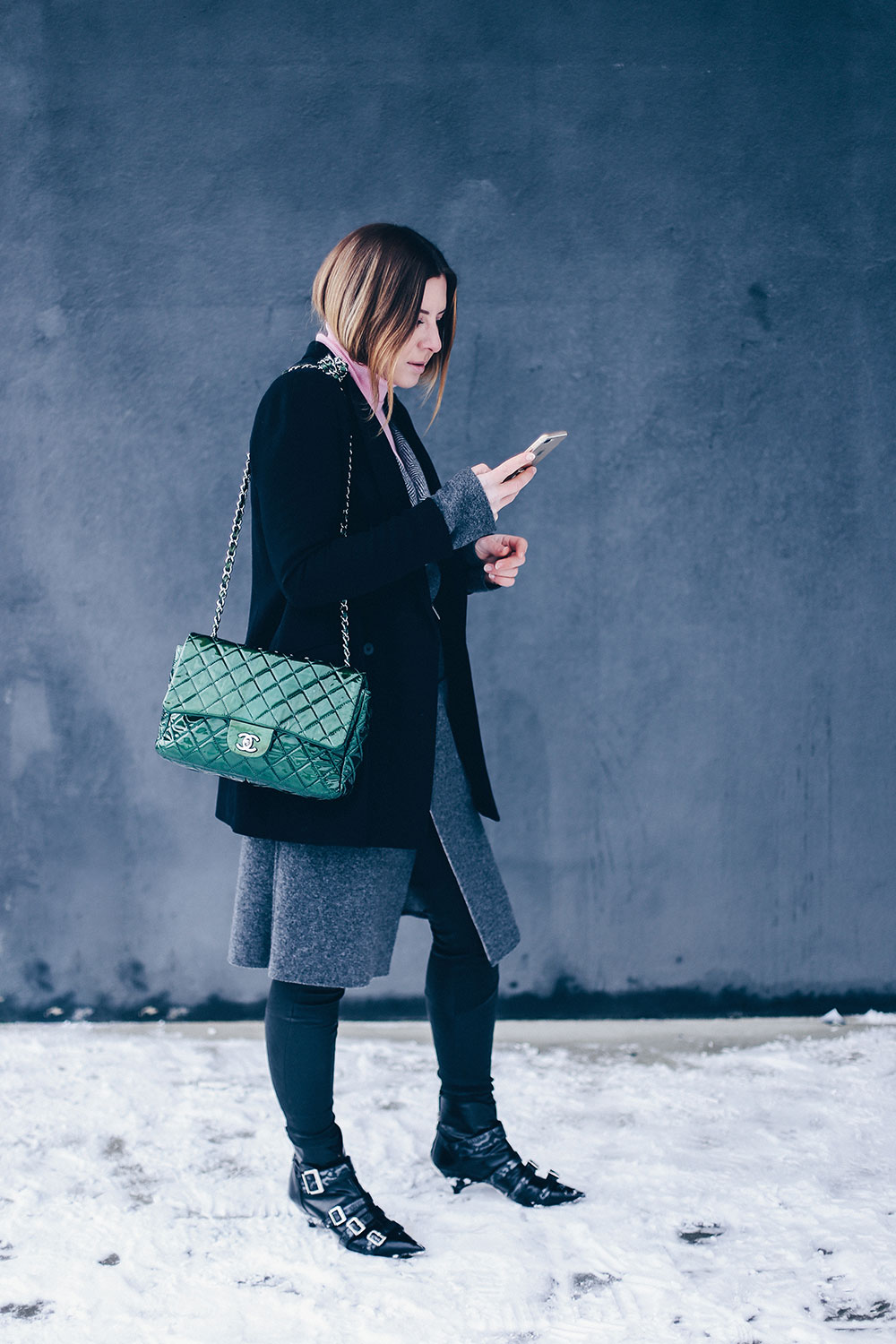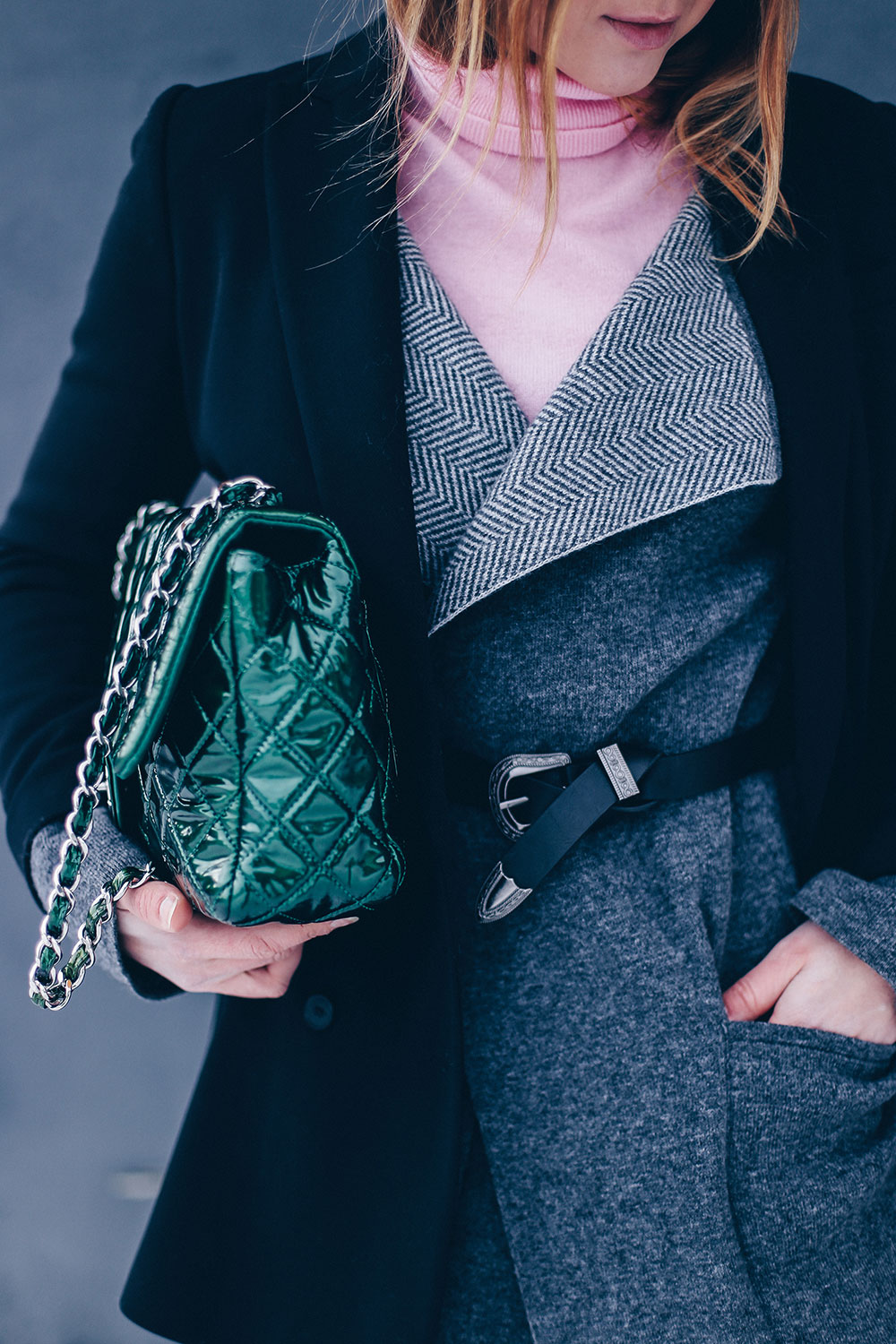 Minusgrade, frostiges und eisiges Wetter – der Winter hier in Tirol ist definitiv da. Auch wenn der Schnee noch etwas auf sich warten lässt. Nichtsdestotrotz freue ich mich auch immer sehr auf diese Jahreszeit – wann sonst könnte man all die schönen Mäntel ausführen? Heute stelle ich euch meine Pufferjacke aus Samt vor, kombiniert mit einer Lacklederhose.
Fotocredit: Christian, Männerblog Beats and Dogs
Lacklederhose im Alltag? Aber sicher!
Klingt anfangs vielleicht etwas gewagt und komisch, lässt sich aber wunderbar kombinieren. Meine Lacklederhose von New Look habe ich mit viel Strick, rockigen Boots und Samt kombiniert. Also alles gegensätzliche Materialien, die im gesamten ein stimmiges Erscheinungsbild ergeben.
Ein No-Go wäre für mich beispielsweise die Kombination aus engem Lackleder und weiteren engen Klamotten aus Spitze oder Leder. Das wäre einfach zu viel des Guten, meint ihr nicht auch? Deswegen gilt: (Auf-)reizende Stoffe und Schnitte wie eine Lacklederhose lieber im Layering mit weiteren Teilen kombinieren!
Lacklederhose: New Look // gleiche Hose aus Lackleder
Samtjacke: H&M // ähnliche Oversize-Pufferjacke
Boots: Zara // ähnliche Boots mit Schnallen
geripptes Shirt: H&M // ähnliches Shirt
Pullover: Les Petites // ähnlicher grauer Pullover
Tasche: Chanel // gleiches Chanel Modell, ähnliche gesteppte Tasche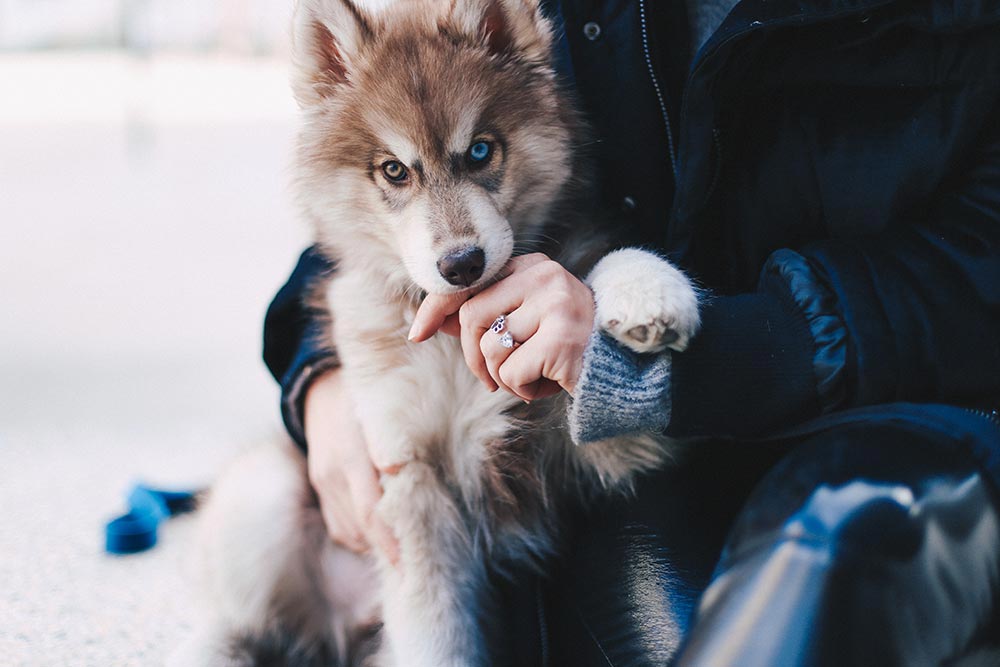 Pufferjacke und Retro-Rollkragenshirt mit Zipper
Zwei Teile, die wir dieser Winter-Saison definitiv nicht entkommen. Oversize-Pufferjacken sehen nicht nur schick aus, sie halten uns auch äußerst warm. Kürzlich habe ich euch schon ein Winter-Outfit mit der adidas by Stella McCartney Bomberjacke gezeigt. Kombiniert mit Overknees wirkt die Jacke nicht mehr sportlich, sondern bekommt einen femininen Touch.
Rollkragenshirts mit Zipper erinnern mich ja etwas an Skibekleidung. Von H&M über Zara bis hin zu J.W. Anderson oder Isabel Marant – so gut wie alle Marken sind auf den Retro-Zug aufgesprungen! Für mich sind sie ideal unter einem ausgeschnittenen Pullover, vor allem im Winter. Aber auch unter den allseits beliebten Slip Dresses lassen sie sich hervorragend kombinieren.
Wie gefällt euch mein Winter Streetstyle? Wäre so eine Lacklederhose auch etwas für euch?