Category Archives:
Fashion Magazin
Das Trend-Thema "Sneaker im Winter" spricht wahrscheinlich nicht jeden von euch an. Ich liebe diese Kombination aber und trage sie richtig gerne. Richtig kombiniert und mit ein paar Tipps und Tricks in petto, friert man auch nicht. Versprochen! Auch meine Lacklederhose hat wieder einen Auftritt hier auf meinem Modeblog. Diesmal in Kombination mit meiner Denim-Jacke mit rosa Fake Fur.
Sneaker im Winter ohne frieren!
Ja, das geht wirklich! Oft wird diskutiert, dass das ja viel zu kalt sei und gar nicht fein sein kann. Dem muss ich wirklich widersprechen und ich habe heute auch 3 Tipps für euch, wie man Sneaker eben auch im Winter tragen kann.
Auch hier gilt wie so oft die Regel: Je weniger man unten trägt, desto mehr Stoff sollte oben herum vorhanden sein. Genau deswegen friere ich auch nicht. Im Layering-Look packe ich mich kuschelig warm ein – Fake Fur und Strick sind dabei meine Favoriten! Was ich außerdem noch mache, damit meine Füße nicht frieren, verrate ich euch jetzt.
Lacklederhose: New Look // gleiche Hose aus Lackleder
langes Streifenshirt: H&M // ähnliches Shirt
Streifenpullover: Pimkie // ähnlicher gestreifter Pullover
Tasche: Gucci // gleiche GG Marmont in Pink
Jeansjacke mit Fake Fur: Loavies // ähnliche Jeansjacke, günstigere Variante
Creeper Sneaker: PUMA // gleiches Modell, ähnliche Sneaker mit Plateau

3 Tipps, wie man Sneaker auch im Winter tragen kann.
1. Ein gutes Profil/Plateau gegen kalte Füße!
Sneaker mit einem guten Profil und einem leichten Plateau sind im Winter definitiv die bessere Wahl als simple Converse. Deswegen habe ich mich auf für meine Creeper Sneakers entschieden, die sowohl Profil als auch Plateau miteinander vereinen. Alternativ bieten sich hier auch Sneaker Wedges an.
2. Socken, Strumpfhosen und Co. halten schön warm!
Was man am Foto (und auch in Natura) nicht sieht: Ich trage eine transparente Strumpfhose aus einem etwas festerem Material. Dabei ist es besonders wichtig, dass man auf eine matte Feinstrumpfhose setzt, die dem Hautton entspricht und nicht auffällt.  Wer es gerne auffällig mag, kann auch kuschelige Wollsocken in Beige oder Grau dazu kombinieren. Oder wie wäre es mit Söckchen mit Streifen-Print? Das was gefällt, soll getragen werden!
3. Kuschelige Einlagen gegen Eisfüße!
Kuschelige Einlagen wärmen die Zehen und beugen Eisfüßchen vor. Wer mag, setzt auf Lammfell. Es gibt aber natürlich auch Schuheinlagen aus veganen Materialien. Wer gerne lokal einkauft, sollte sich bei Weihnachtsmärkten oder Winterständen am Stadtfest umsehen. Dort werden auch immer wieder handgemachte, kuschelige Schuheinlagen verkauft.
Tragt ihr Sneaker im Winter? Oder setzt ihr lieber auf altbewährte Winterboots?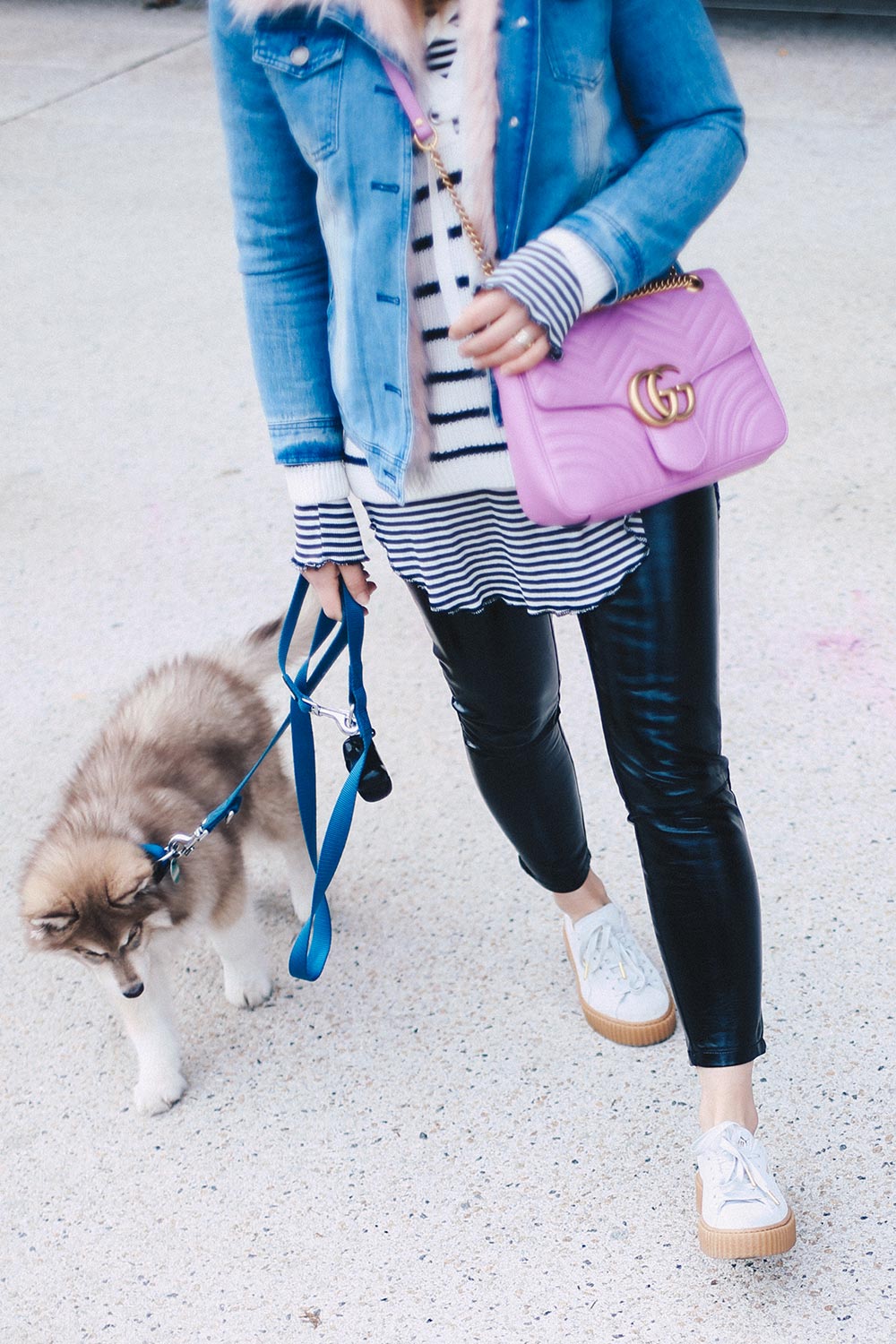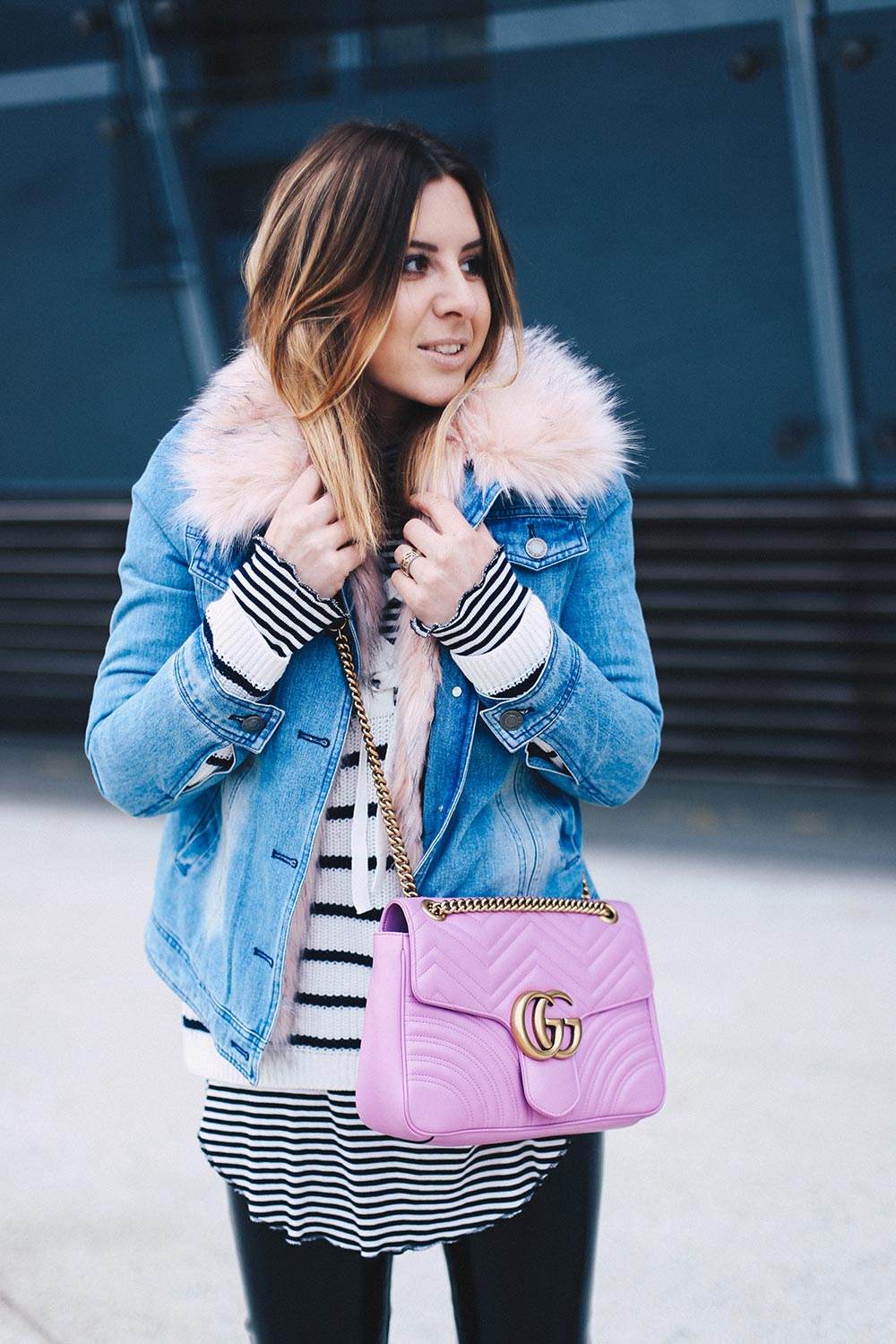 Skinny Jeans, längere Bluse, Kuschelpullover mit Streifen und ein paar dezent-farbige Accessoires? So sah mein Wochenendoutfit aus – gemütlich, aber dennoch schick. Eye-Catcher waren definitiv die Boots von Balenciaga und meine neue Jimmy Choo Lockett Petite Bag. Mehr zu meinem Look und den Accessoires verrate ich euch jetzt!
Jimmy Choo Lockett Petite Bag
Ein neues Second-Hand Stück ist bei mir eingezogen. Auf Instagram habe ich euch die "neue alte Tasche" von Jimmy Choo bereits gezeigt. Es handelt sich dabei um die Lockett Petite Bag und ich habe mich für eine Variante in Khaki, Dunkelblau und etwas Orange entschieden. Wie immer habe ich sie bei Vestiaire Collective gefunden und das mit mehr als 60 % Ersparnis.
Wer ebenfalls an Designer-Second-Hand Shopping interessiert ist, der kann sich gerne in der We Love Vintage Kategorie umsehen. Dort werden die besten Tipps, Guides und Schnäppchen für euch zusammengesammelt. Wie gefällt euch die Jimmy Choo Lockett Petite Bag? 
Balenciaga Ceinture Boots
Die Balenciaga Ceinture Boots kommen bei mir natürlich nicht nur im Herbst zum Einsatz. An wärmeren Wintertagen trage ich sie mit Netz-Söckchen, an kälteren mit genauso derben Stricksocken. Seid gespannt, das ein oder andere Outfit sowie ein Lookbook folgen demnächst! Außerdem habe ich den hübschen Tretern auch ein eigenes Pinterest-Board gewidmet.
Wer nicht so viel Geld in Balenciaga Boots investieren möchte, der kann zu einer ähnlichen Variante von River Island greifen. Hier findet ihr auch noch einmal die schönsten Designer-Lookalikes auf einen Blick.
Lockett Petite Bag: Jimmy Choo // gleiches Modell, ähnliche Variante
Skinny Jeans: Zara // ähnliche Jeans
Boots: Balenciaga // gleiche Boots, ähnliche Variante
Mantel: Bershka // ähnlicher Khaki Mantel
Pullover: Zara // ähnlicher gestreifter Pullover
Sonnenbrille: Dolce&Gabbana // ähnliche Sonnenbrille
Coffe to go-Becher: Ban.Do // gleicher But First Coffee-Becher
Uhr: LIEBESKIND BERLIN // gleiches Modell

Winterliche Accessoires
Auch heute trage ich wieder eine Uhr von LIEBESKIND BERLIN. Diesmal habe ich mich für ein beiges Modell mit Details in Kupfer entschieden. Passend zu meinem sportlich-eleganten Look eben.
Die analoge Uhr mit Quarz-Uhrwerk kann aber nicht nur zu sportlichen Looks getragen werden. Ich kann sie mir auch super zu Ton-in-Ton Outfits vorstellen. Beige Palazzohose, lockere Bluse, weißer Blazer und Accessoires im selben Farbton wirken richtig elegant. Wie würdet ihr die Uhr kombinieren?
In diesem Trendreport findet ihr noch einmal alle Händler in Österreich, bei denen ihr die tollen Stücke shoppen könnt. Außerdem habe ich dort auch alle meine anderen Uhren als Statement-Accessoire vorgestellt. Silber, Gold, Schwarz – welche Farbe ist euer Favorit?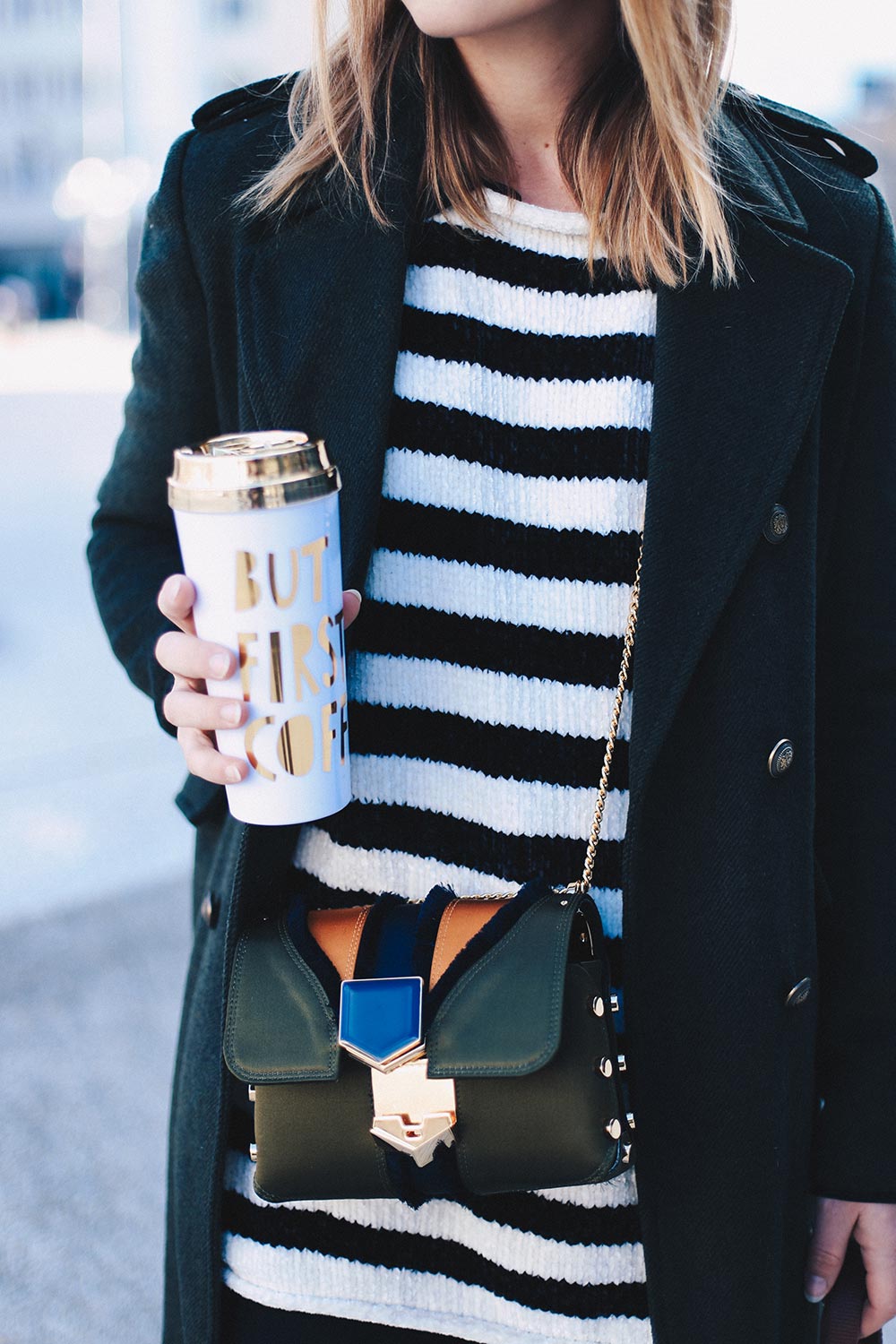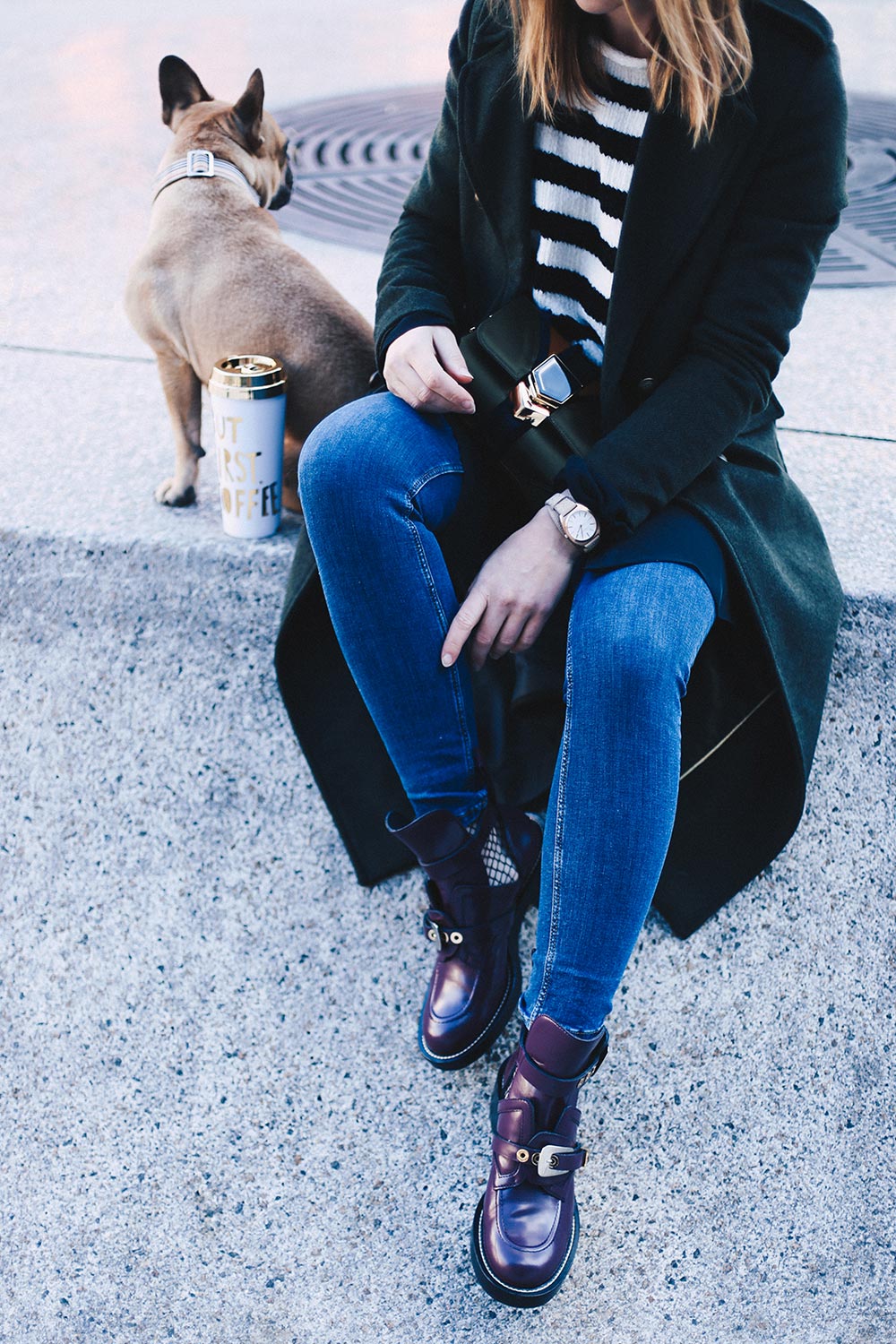 Minusgrade, frostiges und eisiges Wetter – der Winter hier in Tirol ist definitiv da. Auch wenn der Schnee noch etwas auf sich warten lässt. Nichtsdestotrotz freue ich mich auch immer sehr auf diese Jahreszeit – wann sonst könnte man all die schönen Mäntel ausführen? Heute stelle ich euch meine Pufferjacke aus Samt vor, kombiniert mit einer Lacklederhose.
Fotocredit: Christian, Männerblog Beats and Dogs
Lacklederhose im Alltag? Aber sicher!
Klingt anfangs vielleicht etwas gewagt und komisch, lässt sich aber wunderbar kombinieren. Meine Lacklederhose von New Look habe ich mit viel Strick, rockigen Boots und Samt kombiniert. Also alles gegensätzliche Materialien, die im gesamten ein stimmiges Erscheinungsbild ergeben.
Ein No-Go wäre für mich beispielsweise die Kombination aus engem Lackleder und weiteren engen Klamotten aus Spitze oder Leder. Das wäre einfach zu viel des Guten, meint ihr nicht auch? Deswegen gilt: (Auf-)reizende Stoffe und Schnitte wie eine Lacklederhose lieber im Layering mit weiteren Teilen kombinieren!
Lacklederhose: New Look // gleiche Hose aus Lackleder
Samtjacke: H&M // ähnliche Oversize-Pufferjacke
Boots: Zara // ähnliche Boots mit Schnallen
geripptes Shirt: H&M // ähnliches Shirt
Pullover: Les Petites // ähnlicher grauer Pullover
Tasche: Chanel // gleiches Chanel Modell, ähnliche gesteppte Tasche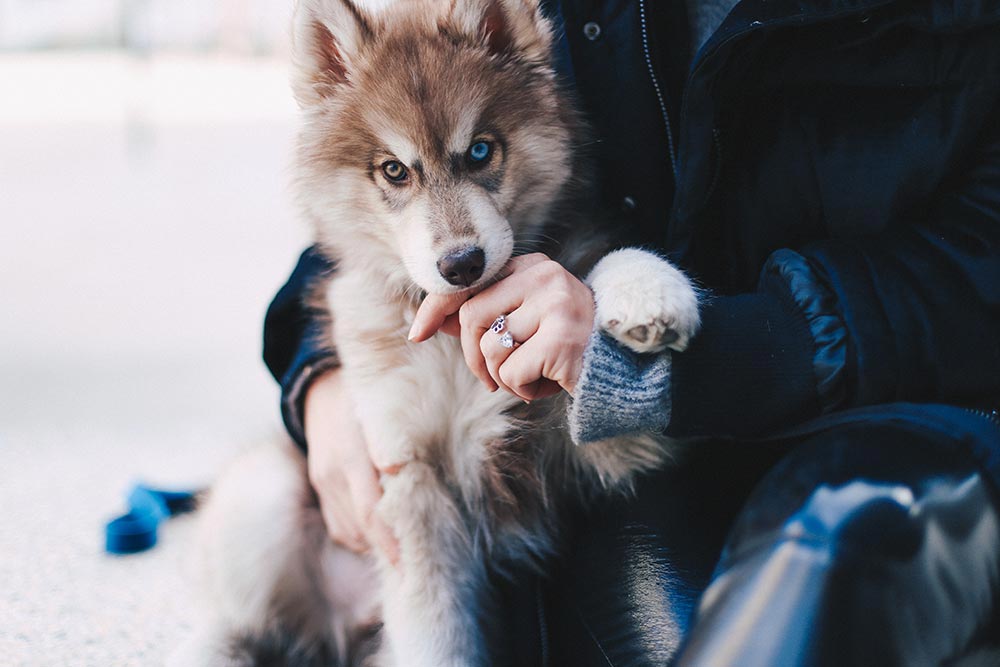 Pufferjacke und Retro-Rollkragenshirt mit Zipper
Zwei Teile, die wir dieser Winter-Saison definitiv nicht entkommen. Oversize-Pufferjacken sehen nicht nur schick aus, sie halten uns auch äußerst warm. Kürzlich habe ich euch schon ein Winter-Outfit mit der adidas by Stella McCartney Bomberjacke gezeigt. Kombiniert mit Overknees wirkt die Jacke nicht mehr sportlich, sondern bekommt einen femininen Touch.
Rollkragenshirts mit Zipper erinnern mich ja etwas an Skibekleidung. Von H&M über Zara bis hin zu J.W. Anderson oder Isabel Marant – so gut wie alle Marken sind auf den Retro-Zug aufgesprungen! Für mich sind sie ideal unter einem ausgeschnittenen Pullover, vor allem im Winter. Aber auch unter den allseits beliebten Slip Dresses lassen sie sich hervorragend kombinieren.
Wie gefällt euch mein Winter Streetstyle? Wäre so eine Lacklederhose auch etwas für euch?